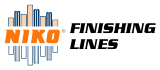 Nikotrack Finishing Lines
Nikotrack Finishing Lines
Niko can provide intelligent solutions by integrating power chain conveyors for a complete painting line process , including cleaning, coating (wet spray or powder coat), painting, curing and drying.
Niko's enclosed track prevents dust from build up and contaminants from reaching the trolleys' wheels and ensuring long life.
The chain conveyor is an alternative to the Niko manual conveyor when there is need to automate particular processes. Load and unloading zones can be more ergonomic as the system switches to a manual mode and the operator can handle parking zones easier in contrast with a continuous running automatic power chain conveyor. Nevertheless, Niko can provide full automatic systems.
Niko's shuttle systems offer extreme versatility when maneuvering trolleys around smaller workshops, especially for powder coating systems.